72% of families with disabled children experience mental health problems due to social isolation. Today with your help, we can give them the practical support to reduce isolation.
There are many ways you can donate to Incredible Kids.
Donate or fundraise with our Just Giving Page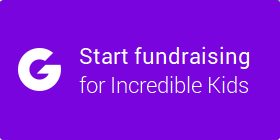 You can also make a one off donation or set up monthly giving using Paypal.
Organise a fundraising event for Incredible Kids and join our fundraiser leader board!